Sustainable use of land & water
Healthy surface water and soils are essential for life on earth, providing diverse life-support functions including nutrient cycling, carbon sequestration, oxygen generation, degradation of pollutants and the production of food, feed and fiber.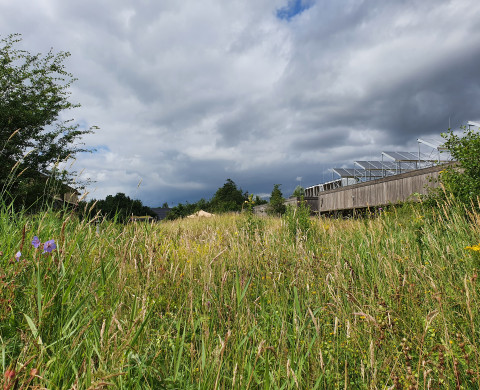 © Froukje Rienks / NIOO-KNAW
Important ecosystem services
These ecosystem services are greatly affected by the discharge of excess nutrients, pesticides, medicines and micro-pollutants by industry, traffic, agriculture and aquaculture. The NIOO theme 'Sustainable Water and Land use' combines research on the services that a broad range of  ecosystems provide and how this is impacted by society. As such, NIOO contributes fundamental knowledge that will help achieve different sustainable development goals, notably including SDG2 (Zero Hunger), SDG6 (Clean Water and Sanitation), SDG14 (Life Below Water) and SDG15 (Life on Land). 
Experts
Function

Senior Researcher

Function

Senior Researcher

Function

Head of department

Function

Head of department

Function

Head of department

Function

Senior Researcher
Dossiers

Publications
A selection of the most interesting papers linked to NIOO's Sustainable use theme:
J Chang, L Tian, MFA Leite, Y Sun, S Shi, S Xu, J Wang, H Chen, D Chen, J Zhang, C Tian, EE Kuramae. Nitrogen, manganese, iron, and carbon resource acquisition are potential functions of the wild rice Oryza rufipogon core rhizomicrobiome. Microbiome 10, 196. (2022) https://microbiomejournal.biomedcentral.com/articles/10.1186/s40168-022…(externe link);
V. J. Carrión et al., Pathogen-induced activation of disease-suppressive functions in the endophytic root microbiome.Science366, 606–612 (2019). https://doi.org/10.1126/science.aaw9285(externe link)
van Wijk, D., Teurlincx, S., Brederveld, R. J., de Klein, J. J. M., Janssen, A. B. G., Kramer, L., Van Gerven, L. P. A., Kroeze, C., & Mooij, W. M. (2022). Smart Nutrient Retention Networks: a novel approach for nutrient conservation through water quality management. Inland Waters, 12(1), 138-153. https://doi.org/10.1080/20442041.2020.1870852(externe link)
Wu, K., Tizzani, R., Zweers, H., Rijnaarts, H., Langenhoff, A., & Fernandes, T. V. (2022). Removal processes of individual and a mixture of organic micropollutants in the presence of Scenedesmus obliquus. Science of the Total Environment, 838, [156526]. https://doi.org/10.1016/j.scitotenv.2022.156526(externe link)
Armstrong, M. R., Kramer, L., de Senerpont Domis, L., van Wijk, D., Gsell, A., Mooij, W. M., & Teurlincx, S. (2021). Flipping Lakes: Explaining concepts of catchment-scale water management through a serious game. Limnology and Oceanography: Methods, 19(7), 443-456. https://doi.org/10.1002/lom3.10436(externe link)
Chang, M., DeAngelis, D. L., Janse, J. H., Janssen, A. B. G., Troost, T. A., van Wijk, D., Mooij, W. M., & Teurlincx, S. (2022). A generically parameterized model of Lake eutrophication: The impact of Stoichiometric ratios and constraints on the abundance of natural phytoplankton communities (GPLake-S). Ecological Modelling, 473, [110142]. https://doi.org/10.1016/j.ecolmodel.2022.110142(externe link)
Salgado, J., Duc`, T. A., Nga, D. T., Panizzo, V. N., Bass, A. M., Zheng, Y., Taylor, S., Roberts, L. R., Lacey, J. H., Leng, M. J., & McGowan, S. (2022). Urbanization and seasonality strengthens the CO2 capacity of the Red River Delta, Vietnam. Environmental Research Letters, 17(10), [104052]. https://doi.org/10.1088/1748-9326/ac9705
Bauer, S., Lisovski, S., Eikelenboom-Kil, R. J. F. M., Shariati, M., & Nolet, B. A. (2018) Shooting may aggravate rather than alleviate conflicts between migratory geese and agriculture. Journal of Applied Ecology 55: 2653–2662. http://dx.doi.org/10.1111/1365-2664.13152&nbsp(externe link);
Buitendijk, N. H., de Jager, M., Hornman, M., Kruckenberg, H., Kölzsch, A., Moonen, S., & Nolet, B. A. (2022) More grazing, more damage? Assessed yield loss on agricultural grassland relates nonlinearly to goose grazing pressure. Journal of Applied Ecology 59: 2878–2889. https://doi.org/10.1111/1365-2664.14306&nbsp(externe link);
Dokter, A. M., Fokkema, W., Ebbinge, B. S., Olff, H., van der Jeugd, H. P., & Nolet, B. A. (2018) Agricultural pastures challenge the attractiveness of natural saltmarsh for a migratory goose. Journal of Applied Ecology 55: 2707–2718. http://dx.doi.org/10.1111/1365-2664.13168(externe link)
Kölzsch, A., Lameris, T. K., Müskens, G. J. D. M., Schreven, K. H. T., Buitendijk, N. H., Kruckenberg, H., Moonen, S., Heinicke, T., Cao, L., Madsen, J., Wikelski, M., & Nolet, B. A. (2022) Wild goose chase: Geese flee high and far, and with aftereffects from New Year's fireworks. Conservation Letters (EarlyView). https://doi.org/10.1111/conl.12927&nbsp(externe link);
van Rijssel, S. Q., Veen, G. F., Koorneef, G. J., Bakx-Schotman, T., ten Hooven, F., Geisen, S., & van der Putten, W. H. (2022). Soil microbial diversity and community composition during conversion from conventional to organic agriculture. Molecular Ecology, 31(15), 4017-4030. https://doi.org/10.1111/mec.16571&nbsp(externe link);
Resch, M. C., Schütz, M., Ochoa-Hueso, R., Buchmann, N., Frey, B., Graf, U., van der Putten, W. H., Zimmermann, S., & Risch, A. C. (2022). Long-term recovery of above- and below-ground interactions in restored grasslands after topsoil removal and seed addition. Journal of Applied Ecology, 59(9), 2299-2308. https://doi.org/10.1111/1365-2664.14145(externe link)
Sterck, F., Vos, M., de Goede, S., van der Putten, W. H., Hannula, E., Meijeres, E., de Vries, J., Nabuurs, G. J., den Ouden, J., de Vries, W., & Veen, G. F. (2022). Duurzaam en klimaatbestendig bosbeheer in de 21ste eeuw: Een bosexperiment voor nieuwe inzichten en praktische oplossingen. Vakblad natuur bos landschap, 184, 4. 
Geisen, S., Heinen, R., Andreou, E., van Lent, T., ten Hooven, F. C., & Thakur, M. P. (2022). Contrasting effects of soil microbial interactions on growth–defence relationships between early- and mid-successional plant communities. New Phytologist, 233(3), 1345-1357. https://doi.org/10.1111/nph.17609(externe link)
Ladouceur, E., Blowes, S. A., Chase, J. M., Clark, A. T., Garbowski, M., Alberti, J., Arnillas, C. A., Bakker, J. D., Barrio, I. C., Bharath, S., Borer, E. T., Brudvig, L. A., Cadotte, M. W., Chen, Q., Collins, S. L., Dickman, C. R., Donohue, I., Du, G., Ebeling, A., ... Harpole, W. S. (2022). Linking changes in species composition and biomass in a globally distributed grassland experiment. Ecology Letters. https://doi.org/10.1111/ele.14126(externe link)
Breidenbach, A., Schleuss, P-M., Liu, S., Schneider, D., Dippold, M. A., de la Haye, T., Miehe, G., Heitkamp, F., Seeber, E., Mason-Jones, K. E., Xu, X., Huanming, Y., Xu, J., Dorij, T., Gube, M., Norf, H., Meier, J., Guggenberger, G., Kuzyakov, Y., & Spielvogel, S. (2022). Microbial functional changes mark irreversible course of Tibetan grassland degradation. Nature Communications, 13, [2681]. https://doi.org/10.1038/s41467-022-30047-7(externe link)
L Momesso, CAC Crusciol, H Cantarella, KS Tanaka, GA Kowalchuk, EE Kuramae.  Optimizing cover crop and fertilizer timing for high maize yield and nitrogen cycle control. Geoderma 405, 115423. https://doi.org/10.1016/j.geoderma.2021.115423(externe link)