Gabriel Silvestre Rocha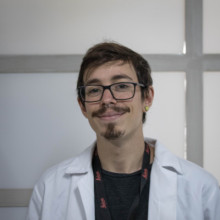 Gabriel Silvestre Rocha MSc
About
Biography
I'm a Bachelor in Environmental Sciences from the Federal University of the State of Rio de Janeiro (UNIRIO) and Master in Sciences from the Graduate Program in Sciences at the Center for Nuclear Energy in Agriculture (CENA) of the University of São Paulo (USP), with a specialized focus on Agriculture and Environment Biology. During my master's program, I conducted research projects that centered on analyzing the microbiome associated with plants of the Urochloa genus (Syn. Brachiaria) and explored methods to improve Phosphorus availability in tropical soils.
Throughout my academic journey, I actively collaborated on diverse research projects across different Brazilian biomes, including the Atlantic Forest, Cerrado (Brazilian savanna), and the Amazon. My experience includes bioinformatics and molecular biology, with emphasis on soil microbiome analysis and microbial ecology.
Currently, I am pursuing a PhD in the Microbial Ecology department at the Netherlands Institute of Ecology (NIOO-KNAW), where my research focuses on mitigating greenhouse gas emissions, with a particular interest in addressing the challenge of reducing N2O emissions through crop selection to promote biological nitrification inhibition. My commitment to advancing sustainable agriculture through microbial ecology and molecular biology continues to drive my academic and research goals.
Research groups
CV
Employment
Present
PhD Student (NIOO-KNAW)
Education
Present

PhD Student (NIOO-KNAW)

2021–2023

Master's in Sciences (USP)

2016–2021

Bachelor in Environmental Sciences (UNIRIO)
Projects & collaborations
Projects
To mitigate climate change, global agricultural soils needs to store more carbon and emit less greenhouse gasses (GHG). In ClipsMicro, together with partners in agro-business, this is realised by steering soil microbes by application of novel, refined compost and crops that can reduce emissions of GHG.