Stijn van den Bergh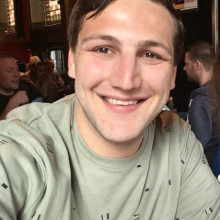 About
Biography
After finishing my bachelor in Biology and master in Environmental Biology at Universiteit Utrecht, I started in January 2019 as a PhD candidate in the Microbial Ecology department at NIOO in the group of Paul Bodelier. My NWO-TTW Open Technology-funded project focuses on the occurrence and underlying mechanisms of organic residue-stimulated atmospheric methane uptake by agricultural soils.
Research groups
CV
Employment
2019–Present
PhD candidate at NIOO-KNAW
Education
2016–2018

MSc Environmental Biology at Utrecht University

2011–2016

BSc Biology at Utrecht University
Publications
Peer-reviewed publications
Process technologies, such as composting, anaerobic digestion, or lactic acid fermentation, greatly influence the resulting organic amendments (OAs) characteristics even when the same raw material is used. However, it is still unclear how these process technologies indirectly modify the effect of OAs on soil microbial activity and soil aggregation. To determine the effect of OA produced using pre-treatment technologies on the soil microbial activity and soil aggregation, we ran a soil column experiment in which we applied compost, digestate and lactic acid fermentation product made of the same model bio-waste. The results indicated that OAs produced under anaerobic conditions (fermented product and digestate) increased microbial activity, biomass, and soil micro- and macro-aggregation compared to compost and control treatments. Soil microbial activity strongly correlated to C, Ca, Mg, extracellular polymeric substances (EPS), fungal biomass, and macroaggregate formation (, ). Simultaneously, soil macroaggregate formation strongly correlated to water-extractable C, EPS, cation exchange capacity, K, Mg, Na, and bacterial biomass (, ). This study demonstrated that the effect of an organic substrate on soil properties can be modified towards desired effects using different pre-treatment technologies, suggesting the possibility of "engineer" OAs.

https://doi.org/10.1016/j.eti.2023.103104
Projects & collaborations
Projects
This project will investigate residue-stimulated atmospheric methane oxidation, and aims to elucidate its occurrence in field conditions, responsible microorganisms, underlying mechanisms and controlling factors.
Outreach
Categories
Featured in

Earlier this month, His Royal Highness King Willem-Alexander paid a working visit to the Netherlands Institute of Ecology (NIOO-KNAW). The visit included a tour, an introduction to NIOO's three major research themes, and a number of hands-on ecological measurements and experiments in which the King took part.