Stijn van den Bergh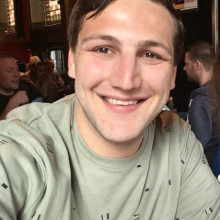 About
Biography
After finishing my bachelor in Biology and master in Environmental Biology at Universiteit Utrecht, I started in January 2019 as a PhD candidate in the Microbial Ecology department at NIOO in the group of Paul Bodelier. My NWO-TTW Open Technology-funded project focuses on the occurrence and underlying mechanisms of organic residue-stimulated atmospheric methane uptake by agricultural soils.
Research groups
CV
Employment
2019–Present
PhD candidate at NIOO-KNAW
Education
2016–2018

MSc Environmental Biology at Utrecht University

2011–2016

BSc Biology at Utrecht University
Projects & collaborations
Projects
This project will investigate residue-stimulated atmospheric methane oxidation, and aims to elucidate its occurrence in field conditions, responsible microorganisms, underlying mechanisms and controlling factors.
Outreach
Categories
Featured in

Earlier this month, His Royal Highness King Willem-Alexander paid a working visit to the Netherlands Institute of Ecology (NIOO-KNAW). The visit included a tour, an introduction to NIOO's three major research themes, and a number of hands-on ecological measurements and experiments in which the King took part.