Impression of the King's visit to NIOO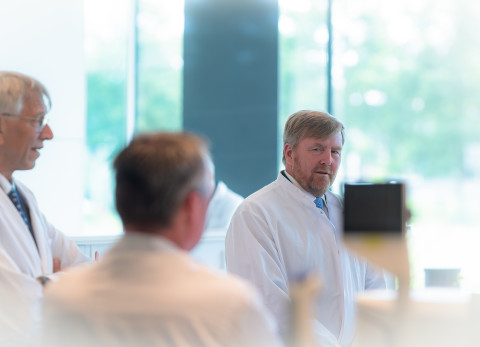 © Perro de Jong / NIOO-KNAW
Impression of the King's visit to NIOO
Earlier this month, His Royal Highness King Willem-Alexander paid a working visit to the Netherlands Institute of Ecology (NIOO-KNAW). The visit included a tour, an introduction to NIOO's three major research themes, and a number of hands-on ecological measurements and experiments in which the King took part.
Upon arriving in Wageningen, the King first met with Marileen Dogterom, the current president of the Royal Netherlands Academy of Arts and Sciences (KNAW), of which NIOO is part. The King is the patron of the KNAW.
He was then greeted by NIOO's director Geert de Snoo, who was joined by researchers Liesbeth Bakker (Aquatic Ecology) and Wim van der Putten (Terrestrial Ecology). They told the King about the work of the institute, and about its three major research themes: biodiversity, climate change and the sustainable use of land and water. 
(Text continues below the photographs)
Hands-on measurements
Next on the agenda was a tour of some of NIOO's research facilities. Kicking off the tour was aquatic ecologist Dedmer van de Waal, who carried out a remote water quality measurement in the Paterwoldse Meer. Van de Waal is one of the initiators of a new 'swimming forecast', which tells swimmers and holidaymakers on a day-to-day basis if they're likely to be at risk from toxic cyanobacteria in a number of Dutch lakes.

The King also visited the new Calibration Centre for the Soil, which asks what constitutes healthy soil and what impact green and soil management can have. The King took a gas sample from the soil together with researcher Paul Bodelier. The sample was then analysed in NIOO's chemical-analytical lab, and researchers there told the King about the solutions nature itself has to offer when it comes to mitigating climate change. Storing carbon in the soil, for instance, so that it is not released into the atmosphere as a greenhouse gas.

(Text continues below the photographs)
Interface with public health
The working visit continued with a roundtable about the interface between ecological research and public health and its attendant challenges. A researcher from NIOO's Centre for Avian Migration and Demography talked about the best ways to find out if there are any infectious diseases that mosquitoes can transfer from animals to humans.
Some questions from the King and a group photograph in front of the sustainable NIOO-building brought the working visit to a relaxed end.