Henk van der Jeugd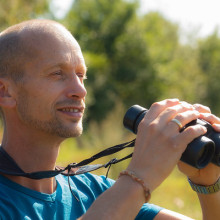 About
Biography
Dr. Henk P. van der Jeugd (1966) graduated from Groningen University in 1991, and obtained his PhD from Uppsala University in Sweden in 1999, working on 'life-history decisions in a changing environment - a long-term study of the Baltic barnacle goose population'. After his PhD he worked on the quantitative genetics of timing of reproduction in great tits at the Edward Grey Institute for Field Ornithology at Oxford University. Simultaneously, he continued to work on barnacle geese, setting up two parallel studies next to the one in the Baltic, one in Northern Russia and one in the Netherlands, to study latitudinal variation in life-history traits. In 2004 Henk made a career-switch into more applied research and became a researcher at SOVON - Dutch Centre for Field Ornithology, mainly working on human-wildlife conflicts involving geese. Henk worked and published on topics as diverse as the mating system of Giraffe, population dynamics of geese, penguins, owls and passerines, and the role of wild birds in the spread of zoonotic diseases.
In 2009 he became the head of Vogeltrekstation - Dutch Centre for Avian Migration and Demography, part of NIOO-KNAW. Vogeltrekstation coordinates all ringing activities of wild birds in the Netherlands. The extensive databank allows detailed analyses of birds' survival rates, breeding success and movements. Vogeltrekstation stimulates the use of ringing data by initializing collaborations with research institutes and universities as well as conducting her own research.
Projects & collaborations
Featured in
Earlier this month, His Royal Highness King Willem-Alexander paid a working visit to the Netherlands Institute of Ecology (NIOO-KNAW). The visit included a tour, an introduction to NIOO's three major research themes, and a number of hands-on ecological measurements and experiments in which the King took part.

ZEIST/WAGENINGEN/NIJMEGEN - Birds that breed in the Dutch Wadden Sea are facing serious problems, according to a new report that brings together all available data from the past two decades. The report was launched at the inaugural symposium of the new Centre for Avian Population Studies (CAPS).

WAGENINGEN - NIOO-KNAW's Centre for Avian Migration and Demography has ringed birds and studied their migration patterns for over a century. In its first-ever peer review, the Centre has been rated 'excellent'.