Long-term trends of phytoplankton and water quality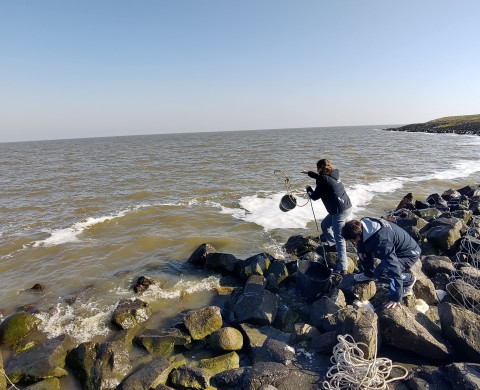 Details
Department

Research group
Long-term data from monitoring programs and sediment records are essential to understand the impacts of global change stressors such as eutrophication, oligotrophication, and climate change on aquatic ecosystems. In the Aquatic Ecology department, we study various long-term datasets originating from sediment records, monitoring programs by water authorities, and own sampling campaigns. 
IJsselmeer: The IJsselmeer is characterized by long-term declines in nitrogen and, particularly, phosphorus loads. This has led to substantial decreases in chlorophyll-a concentrations as well.  However, we also observe substantial increases in N:P ratios, declines in biodiversity, and a phytoplankton community dominated by cyanobacteria. These changes may impede an effective trophic transfer, and limit higher level productivity. In this project, we aim to understand the long-term changes at the food-web base. We closely collaborate with the national water authority (Rijkswaterstaat), and together extended the monitoring program to cover the entire lake with monthly sampling of a range of biological parameters, including phytoplankton community composition, food quality and genetic diversity.
Marker Wadden: The damming of the former estuary Zuiderzee in 1932 created the freshwater lakes Ijsselmeer and, with the creation of the dam Houtribdijk in 1976, the Markermeer. Similar to Ijsselmeer, Markermeer experienced declines in particular the higher trophic levels, fish and benthic and piscivorous water birds. In 2016, the archipelago Marker Wadden was created, a set of newly build islands, a lake restoration project to stimulate recovery of the food web. We study the developments of the food web on and around Marker Wadden, from phytoplankton and its trophic transfer to zooplankton, fish and birds.   
Sediment records: The sediments deposited in lakes provide a natural archive of past ecology. Using a combination of dating methods and measurements of sedimentary remains, we can reconstruct past conditions in lakes extending back decades, centuries and millenia. Such records are vital for assessing lake ecology prior to intensive human disturbance to help in setting goals for restoration. We have expertise in the analysis of biochemical proxies such as chlorophyll and carotenoid pigments and the silica-based remains of diatoms. We use these to determine the long-term dynamics of algae and cyanobacteria in lakes to determine the extent of water quality degradation and changes in the prevalence of algal blooms.       
Details
Department

Research group