Rosan van Halsema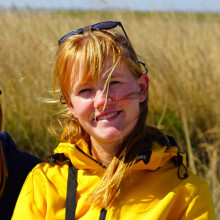 About
Biography
During my studies at Wageningen University I focused on soil and water quality. Next to that I developed a passion to educate others about my research. This combines perfectly in the Citizen Science campaign called 'Vang de Watermonsters' I work on. This research aims to gain insight in the ecological water quality status of smaller waters in the Netherlands. These small waters are merely not monitored for the Water Framework Directive, a European Law that states that all water quality should be good. The deadline for the Water Framework Directive is in 2027, meaning that also these small waters should be of good ecological status. The use of citizen science makes it possible to gain insight in the large amount of waters in the Netherlands. On top of that, the use of Citizen Science gives oppertunity to increase the knowledge and awareness of water quality by the general public. This project is an collaboration with Natuur & Milieu, more information about the project can be found on: www.natuurenmilieu.nl/watermonsters
CV
Employment
2022–2023

Research assistent

Present

PhD Student
Education
2019–2021

MSc Earth and Environment

2015–2018

BSc Soil, Water, Atmosphere
Projects & collaborations
Projects
'Vang de Watermonsters' is een Citizen Science project dat de waterkwaliteit in kleine wateren in Nederland in kaart brengt. Door het inzetten van burgers voor metingen van de waterkwaliteit krijgen we een beeld van de waterkwaliteit in kleine wateren in Nederland. Kleine wateren zoals plassen, vennen, sloten en vijvers zitten niet in het standaard meetnet van de Waterschappen. Dit project is opgezet om die blinde vlek te kunnen vullen. Uit voorgaande jaren is gebleken dat de waterkwaliteit voor het overgrote deel in Nederland helaas nog slecht of matig scoort. Voor goede waterkwaliteit is helder water nodig met voldoende onderwaterplanten die als schuil- en broedplaats voor veel onderwaterleven dienen en zuurstof produceren in het water.

De resultaten van 2022 zijn te vinden op: https://nioo.knaw.nl/nl/nieuws/biodiversiteit-sloten-vennen-en-grachten-nog-steeds-in-de-knel

Meer informatie over het project is te vinden op www.vangdewatermonsters.nl
Featured in
This lunch seminar, organised by the Open Science Community Wageningen, is about Citizen Science. Rosan van Halsema will talk about her experiences with Citizen Science in the light of the "Vang de Watermonsters" project.

Pakhuis de Zwijger organiseert op maandag 19 december een avond over de kwaliteit van ons water, met o.a. NIOO-onderzoeker Rosan Halsema.

Veel opties voor citizen science in en rond het water: Watermonsters, Slootjesdagen en ooit al begonnen met het Meerkoetenproject.