Mattias de Hollander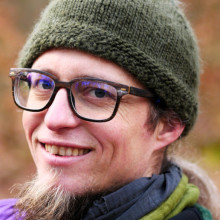 About
Biography
Mattias contributed to the growth and development of the bioinformatics at the institute by introducing it and continues to professionalize it, making several web-services available, giving support and advice and organizing carpentry workshop to teach basic skills and develop analysis pipelines. He is an early adopter of the Snakemake workflow management system and has been developing pipelines with it since 2012 in combination with Bioconda, mostly in the metagenomics fields. He advocates the use and development of open-source software and reproducible research.
CV
Employment
2011–Present

Bio-informatician @ NIOO-KNAW

2010–2011

Bioinformatician, Free University (VU) Amsterdam / Netherlands Institute of Ecology (NIOO-KNAW)
Education
2008–2010

MSc Bioinformatics, Wageningen University, the Netherlands

2004–2008

Bachelor of Applied Science (B AS), CUM LAUDE, BioInformatics, University of Applied Sciences (Hogeschool),Leiden
Projects & collaborations
Projects
PhyloFunDB. This project aims at creating and maintaining phylogenetically validated reference databases of various microbial functional genes and creating the tools to make the databases available for the scientific community

The overall goal of the project is to conduct an in-depth analysis of the biodiversity and functions of microorganisms in the spermosphere and (endo)rhizosphere of ancestors of different crops species grown in their native habitat.

Plant species shape their own rhizosphere community, and on its turn selected soil biota shape the growth and development of plants.