About the NIOO-KNAW building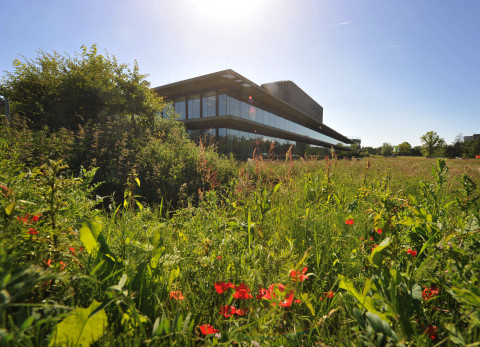 About the NIOO-KNAW building
Since 2011, NIOO's researchers have been working in new headquarters with laboratories and offices surrounded by greenhouses, experimental ponds and a range of other facilities. It's a testing ground for the latest ecotechnology: take for instance the experimental green roof, the innovative application of solar power or the unconventional approach to wastewater treatment.
Closing cycles
Cradle to Cradle philosophy has been an important source of inspiration. The ambition is to close as many different cycles (energy, water, nutrients) as possible. This can be done thanks to new (not yet fully developed) techniques in the areas of energy generation, sustainable energy use, water treatment technology, material selection and CO2 emissions. Maximizing biodiversity within the grounds is another important consideration. These things together make up what may be called 'integrated sustainability', going far beyond a focus on just one or two individual aspects.
Lessons learned
The building has fast become an architectural eye-catcher that showcases the ecological research within its grounds. One of the most sustainable buildings in the Netherlands, it is often held up as an example. NIOO is happy to share its experiences, in the form of 'lessons learned' during the construction progress, the information on this website and through personal exchanges. In doing so, we remain true to the nature of our scientific institute: there is so much to learn from nature! Meanwhile, the building and its natural environment will continue to evolve.
Why the move?
Two former branches of NIOO – one based in Heteren, the other in Nieuwersluis – were in urgent need of a new, significantly larger research complex. The move has also facilitated the ecologists' collaborations with other organisations, as the new location is a stone's throw from the campus of Wageningen UR and a number of 'green' knowledge organisations.