History of NIOO-KNAW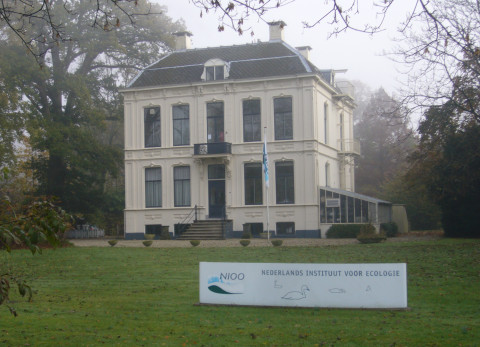 © Pvt pauline ~ commonswiki
Our researchers have studied the ecology of the Netherlands and beyond since 1954.
NIOO-KNAW was created in 1992 by merging three important ecological research institutes of the Royal Netherlands Academy of Arts and Sciences (KNAW): CTE, CL and CEME. Initially, it was known as the 'Netherlands Institute for Ecological Research', but in September 2002 the name was simplified to 'Netherlands Institute of Ecology', the Dutch acronym being NIOO-KNAW.
Since the CTE and CL moved into a joint sustainable building in Wageningen in January 2011, the departments of both institutions were put together and restructured, and the names CTE and CL are no longer used. All researchers are now working at NIOO. CEME was separated from NIOO on 1 January, 2012 and transferred to the Royal NIOZ.
From IOO, via NIOO/CTE to NIOO
The Institute of Ecological Research (IOO) was established in 1954 with its headquarters in Arnhem, and moved to Heteren in 1982. At the institute mainly research was done in population ecology of birds and grassland ecology. After the merger with the other ecological institutes in 1992 to NIOO, it was known as Centre for Terrestrial Ecology (NIOO/CTE). Since moving to Wageningen in 2011, the name CTE is no longer used.
From Hydrobiological Institute, via Limnological Institute and NIOO/CL to NIOO
The Hydrobiological Institute was founded in 1957 to do research into fresh water ecology. It was established at the estate Villa Vijverhof in Nieuwersluis. In the sixties it was renamed Limnological Institute, after 'limnos', the Greek word for 'lake'. From 1992, after it merged into NIOO-KNAW, it was called the Centre for Limnology (NIOO / CL). In January 2011, this centre also moved to Wageningen. Since then the name CL is no longer used.
From Delta Institute via NIOO/CEME to NIOZ-Yerseke
The Delta Institute for Hydrobiological Research in Yerseke was founded in 1957 to investigate the effects of the Delta works on the flora and fauna of the Zeeland and Zuid-Holland tidal zones. After the merger to the NIOO-KNAW in 1992 it was called the Centre for Estuarine and Marine Ecology (NIOO/CEME). Meanwhile, the research subject was broadened towards ecosystems of brackish and salt water from the adjacent Oosterschelde to the Antarctic. On 1 January 2012, the institute was transferred to the Royal NIOZ (Texel) and is now known as NIOZ-Yerseke.