No 'I' in Ecology: 150 years after Haeckel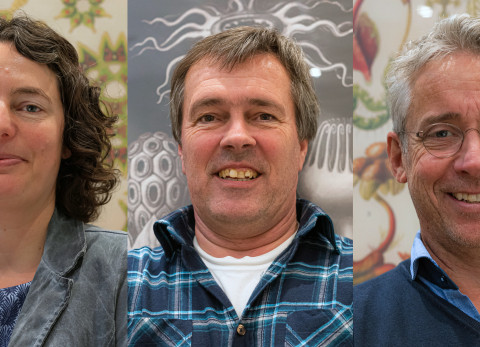 © Perro de Jong / NIOO-KNAW
No 'I' in Ecology: 150 years after Haeckel
As a new year begins, NIOO looks back not just on the past twelve months but on 150 years of ecology. We've come a long way since German biologist Ernst Haeckel first coined the term in 1866...
It all boils down to one thing, said NIOO-director Louise Vet speaking to Bionieuws magazine earlier this year: "the great strength of ecology is cooperation. Most of our important successes have been thanks not just to an individual researcher, but to research groups or collaborations."
NIOO has encouraged and invited such collaborations, both internally and with external partners. It has made the institute a central pivot in an ever widening network.
Looking further afield
That network doesn't just include other ecologists, either: applied scientists, molecular biologists, evolutionary scientists, biochemists and many other disciplines meet and share knowledge through ecology and ecological research.
Increasingly, ecology has changed from being a 'descriptive' to being a 'predictive' science, with a strong social role and potential. Louise Vet: "Economists were never shy about moving outside their own area, so why should we be?"
So what do some of the current ecological collaborations look like?
Gerard Korthals: Soil ecology
"In late 2014, I became coordinator of the Centre for Soil Ecology. Soil ecologists study complex chemical, physical and biological properties of soils. For this, close cooperation between experts is vital, and the Centre is a perfect vehicle for collaborations. More and more, these involve nut just researchers but also - and especially - our 'stakeholders': farmers, corporations, businesses, water boards, provincial authorities and so on."
Liesbeth Bakker: Rewilding
"I work with nature organisations on 'rewilding'. Rewilding means giving space to natural processes. You have to choose or create a starting situation that is favourable to these processes, and that will hopefully raise the area's ecological quality. I'm currently working on the effects of rewilding nature areas with large herbivores such as Highland cattle, European bison, Konik horses, red deer and wild boars. But I'm also involved in the Marker Wadden project, which aims to boost water quality and aquatic life in Lake Markermeer by constructing islands and mudflats."
Jos Raaijmakers: Back to roots
"Scientific research is a collaborative effort, combining and integrating different ideas, concepts and skills. For example, the Back2Roots research program in my department combines the expertise of five academic institutes and ten industrial partners with the goal of developing new sustainable measures to protect plants from (a)biotic stress and to discover novel antimicrobial compounds. Collaboration is essential to make this happen!"
Interesting future
After that first century and a half, the future for ecology is only looking more interesting, believes NIOO-director Louise Vet. Politics is beginning to catch up, as became clear from the response to NIOO-researcher Tom Crowther's recent warnings about the loss of carbon from the soil.
Having more ecologists in political positions will be the next step, says Vet. "Ecologists know that the sun is the main source of energy, that you have to close cycles and that diversity is important." So let the next 150 years begin.