New NIOO department head Suzanne McGowan: "Water networks are the world's waste disposal system"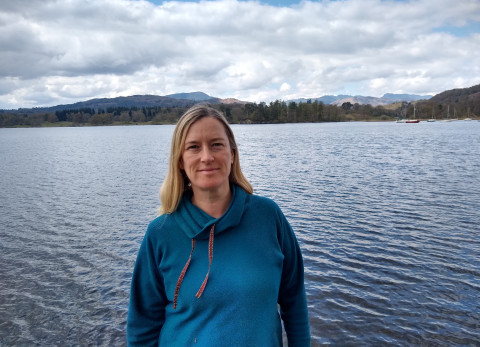 © Suzanne McGowan / NIOO-KNAW
New NIOO department head Suzanne McGowan: "Water networks are the world's waste disposal system"
New head of Aquatic Ecology Suzanne McGowan comes to NIOO with a passion for lakes, wide experience working across disciplines and a research and teaching record that includes Malaysia and Greenland. She shares her ideas about the future of the field, and the challenges facing water networks as "world's waste disposal system". But first we asked her where her interest in things aquatic came from.
"I started to get my feet wet later in life, when I went to university. I was raised in an agricultural area of Lincolnshire which was extensively drained by a Dutchman, Cornelius Vermuyden, in the 1600s. My family are descended from Dutch people who came over to drain the area! Now the only wet remnants of peatland are the ditches  - we called them dykes - that drain the fields, and the canals that pass through the area. I first got hooked on aquatic plants during a field trip to Bala Lake in Wales on my BSc Plant Sciences degree, and my undergraduate dissertation looked at competition between Elodea species (waterweeds)."     
Is there a specific study species or place you still consider yourself 'hooked on'?
"Windermere in the Lake District, the largest lake in England. It's a very charismatic lake, so not surprisingly it is a tourist hotspot, and this has in part compromised its water quality. The Freshwater Biological Association has been based on Windermere's shores since the 1920s, starting out its activities in a gothic-inspired castle. The FBA has played an important role in the development of the discipline of limnology: the study of inland aquatic ecosystems. Windermere has one of the longest limnology monitoring records in the world, and is home to some of the first palaeolimnology (sediment core) studies. I was lucky enough to spend time at the FBA during my PhD, and I've since carried out some palaeolimnology work on the lake."
What other experiences from your previous work and studies have brought you to where you are now?
"The experiences I had as a PhD student at the University of Liverpool in the 1990s were very formative. There were some top researchers in the field of ecology, marine biology and freshwater sciences, and a brilliant group of students - the 'Freshwater posse' - many of whom have stayed in the field. I learned how to analyse chlorophyll and carotenoid pigments using high-performance liquid chromatography at that time. I've trained a lot of students in these techniques and had many collaborations across the world through pigment-based projects. This has challenged me to think about limnology and environmental change in different parts of the world, ranging from Arctic to tropical areas.
As a palaeolimnologist, I have had to think more broadly about lake ecosystems. On long timescales, and at the watershed-scale. This has led to me working across disciplines. With geographers at the University of Nottingham, where I've been for the past 17 years and where I will retain a Honorary Professor position. With geologists, at the Geological Survey of Denmark and Greenland and the British Geological Survey (BGS, where I am a Visiting Research Associate). And with biologists, at the Universities of Liverpool and Regina in Canada.
Another key experience was my time in Malaysia on secondment between 2013 and 2016. The chance to live and work in Asia was unforgettable, and I learned a lot about different working cultures, gaining understanding of how other disciplines and faculties are organised. I taught a lot of Masters and Undergraduate courses in Malaysia, and found the dedication and passion of the students in Malaysia for environmental issues  - in the pre-Greta era - to be very energising. My time there was a strong inspiration for my more recent research in tropical waters."
(Text continues below the photographs)
What major research questions do you see in aquatic ecology that need to be studied?
"The major challenges of our time are climate change, habitat loss and many forms of pollution; we know that aquatic systems will be at the sharp end of their consequences. Declines in aquatic species are more steep in freshwaters than other ecosystems and yet even basic information on biodiversity declines and the underlying reasons are really limited in many parts of the world. Despite years of research, the problem of nutrient pollution in our water bodies persists. Water networks are the world's waste disposal system, and there is a still much to discover about how the complicated cocktail of pollutants and their interactions affect aquatic ecology. 
Toxins from aquatic microbes like cyanobacteria are increasing in prevalence, but we only partly understand the link to climate and pollutant stressors, and the pathways of toxin transmission to humans and other living creatures. The role of inland waters in contributing to and altering global biogeochemical cycles is still being clarified, and we need to understand how water management can contribute towards national-and global-scale carbon emissions targets."
What are some of the future directions you see for aquatic ecology...including at NIOO?
"There will undoubtedly be further pushes towards providing solutions to environmental problems, and this will necessitate working across disciplines. Ecologists are well acquainted with the study of complexity and so can play a central role in transdisciplinary studies and, of course, the Netherlands has a strong history in pioneering ambitious environmental and rewilding projects. The push towards nature-based solutions will challenge us to think beyond ecology. This is something we are exploring in Asian mega-delta systems in Vietnam, India and Bangladesh via the UKRI-GCRF Living Deltas Hub.
Meta/genomic analyses will most likely become much more integrated into all branches of ecology as the methods become more accessible and will perhaps make us realise that we have underestimated the role of some key taxonomic groups. We have only really scratched the surface of how metabarcoding and more targeted gene analyses can be applied in sedimentary records to answer ecological questions on decadal to millennial timescales.
Studies that cross ecosystem boundaries will become more commonplace and important in understanding the bigger picture - particularly for nutrient and pollutant cycling, greenhouse gas fluxes and species diversity patterns. New technologies and approaches will enable measurements to be made on unprecedented ranges of spatial and temporal scales, but we must develop methods and models to deal with the complexity of integrating these approaches. 
The rush to embrace new technology should not forget the central role of long-term consistent monitoring in our understanding of ecological change and ecosystem processes. Field and lab studies should remain central to ecology to provide a firm empirical basis on appropriate scales and ensure that early career ecologists receive training that is fit for purpose and based on 'real-world' experiences."
What are your impressions of NIOO and the department so far?
"The staff are highly motivated and welcoming, and I am excited by the science that is being conducted here. The collective range of skills within the department seems to me to provide an excellent diversity of ecological approaches, with much potential for complementarity. There is a good ethos for development of early career talent and I feel like NIOO is a supportive place to work - I hope I can contribute to that culture. Of course, I have to mention the NIOO building. It's an eco-showstopper and I am really looking forward to working within a living experiment that is trialling how we can develop and manage sustainable buildings. I also feel privileged to have access to the fantastic facilities for fieldwork, labwork and experiments."
Finally, which would you pick if you were given the choice?
Greenland or Malaysia? "Greenland in summer, Malaysia in winter...of course! Although the mosquitoes are surprisingly similar in both places."
Carbon or nitrogen? "It's the ratios that matter! I also have a soft spot for phosphorus."
Evolution or revolution? "Is this asking about my management style or my ecological perspectives? The Beatles had the best answer to this question: "We all want to change the world. But when you talk about destruction. Don't you know that you can count me out."
Excavating the past or predicting the future? "We can't meaningfully predict the future without understanding the past."