Michiel (Chiel) Boom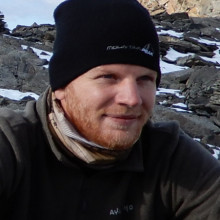 About
Biography
I started with my PhD at the NIOO-KNAW in September 2017. Before, I studied Forest and Nature Conservation at Wageningen University, where I specialised in Ecology and GIS-analyses. After my study I was involved in several projects at the NIOO-KNAW such as the monitoring of cavity breeding passerines and the Light on Nature project.
My PhD-project focusses on the costs and benefits of bird migration, by comparing resident and migratory barnacle geese. I aim to determine the adaptations (behavioural and physiological) of migrating geese and how this influences their survival, energy expenditure and breeding success. To this end we use GPS-tracking devices and heart rate loggers to track barnacle geese in the Netherlands and on their migration to Arctic Russia. Within this project I work closely with Götz Eichhorn, Henk van der Jeugd and Bart Nolet.
Research groups
CV
Employment
2017

Research Assistant

2017–2022

PhD student

2022–Present

Guest researcher
Education
2011–2014

BSc Forest and Nature Conservation WUR

2014–2016

MSc Forest and Nature Conservation WUR
Projects & collaborations
Projects
Anthropogenic change paved the way for a traditionally arctic-breeding, long-distance migratory bird, the barnacle goose to stop migrating and also breed successfully in temperate regions.
Featured in
Chiel Boom (Animal Ecology) will defend his PhD thesis on Friday 14 October 2022 at the University of Amsterdam, Agnietenkapel, Oudezijds Voorburgwal 231, Amsterdam

Thesis title: "Rewarding round-trips or tiresome travels? Comparing migratory and non-migratory lifestyles in barnacle geese"

PhD supervisor: Prof. dr. B.A. Nolet

PhD co-supervisors: Dr. H.P. van der Jeugd, Dr. G. Eichhorn