Galápagos (3): Back home and prepping for data analysis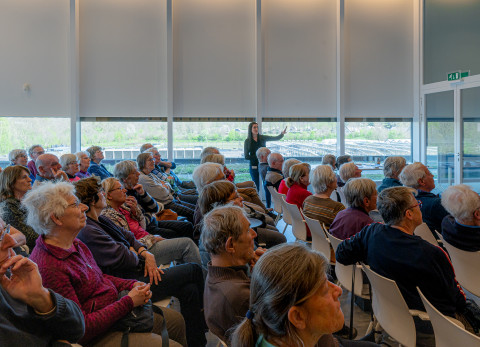 © Perro de Jong / NIOO-KNAW
Galápagos (3): Back home and prepping for data analysis
An international research team led by NIOO has been searching for invisible life in the iconic Galápagos Islands. They've been studying the islands' unique giant daisies (Scalesia) and their associated micro-organisms. Here, Viviane Cordovez, Jos Raaijmakers and the other members blog about what they found.
The team are safely back home and everyone is full of stories to tell. Sampling Scalesia species on the different islands was both spectacular and physically tough at times! We witnessed astonishing scenery where the crystal blue waters contrasted with rough black volcanic rocks, dotted with isolated plants.  
Some Scalesia species were hard to reach and sample, especially on islands such as Fernandina and Santiago. Landing and climbing across the volcanic rocks was definitely not always easy. In Charles Darwin's words: "nothing could be less inviting". At the same time, the scenery just kept amazing us. It was impressive to see the different Scalesia plants growing in volcanic soils between the lava rocks under such harsh environmental conditions.  
DNA samples will soon be shipped to the Netherlands, where they will be submitted for next generation sequencing. We're hoping to have the first results by the end of the summer. In the meantime, watch this space for more updates on our project.  
A sneak preview of our experience was shared last Wednesday here at NIOO, when a group of veteran nature lovers from the Wageningen Natural Science Society ('Wagenings Natuurwetenschappelijk Gezelschap') came to visit.  Jos Raaijmakers, Haig Balian and I were there to talk about our experiences as members of the expedition and to answer questions. 
More about the expedition