Wageningen to mark International Year of Soils with range of activities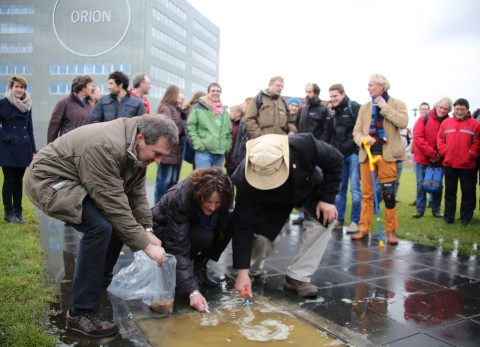 Wageningen to mark International Year of Soils with range of activities
Gerben Mol from Alterra Wageningen UR is chairman of the Wageningen Soil Network working group. He unveiled the plaque with the following words:
"The United Nations has declared 2015 the International Year of Soils in order to draw attention to the importance of a healthy soil for the quality of life. Various Wageningen institutions and organisations have now joined forces. We will be collectively contributing to the International Year of Soils as members of the Wageningen Soil Network. The participants currently include Wageningen University, Alterra and other Wageningen UR institutions, ISRIC World Soil Information, the Centre for Soil Ecology and the Netherlands Institute of Ecology (NIOO-KNAW)."
Soil sample
Before the plaque was laid, filmmaker and ecologist John D. Liu - currently a visiting fellow at NIOO-KNAW - and NIOO-director Prof. Dr. Louise Vet took a sample of the soil in that exact location. Various laboratories at the NIOO-KNAW and Wageningen UR are currently examining that soil sample. Their findings concerning the life and chemistry in this soil are expected shortly.
It's certain to be full of life, expects the secretary of the new working group, Gerard Korthals from the Centre for Soil Ecology. "The soil in Wageningen is very interesting because various types of soils are found here. This area is home to, for example, peat, river clay and sandy soil, each with its own unique soil life and use. This made Wageningen the most logical location for the former Agricultural College (Landbouwhogeschool), the predecessor to Wageningen UR, at the end of the 19th century."
Better utilisation of soil
Today, in 2015, the soil expertise found in Wageningen is internationally renowned.
On a wide range of soil-related topics - from the physical characteristics of soil and the relationship between soil and climate to improving soil fertility and gaining insight into soil life - Wageningen institutions now provide the insights required by local and global parties to improve the use of the soil on behalf of current and future generations. 
Activities in 2015
Throughout the year, participants in the network will be organising activities that demonstrate Wageningen's soil expertise. These include a number of conferences for scientists, policy makers and the business community, as well as activities for the general public.
Gerben Mol adds: "The Wageningen Soil Network will be offering a special campus tour to guests. And one of the participants, ISRIC, is starting the Virtual World Soil Museum this year, which will put online not only the 80 profiles of the physical museum, but also the 920 profiles that are currently in the basement, i.e. the entire collection."
Activities will also be organised outside the campus: 'Wageningen' will be represented during Global Soil Week in Berlin, and there will be collaborations with media partners on 'citizen science' projects related to soil. A list of activities currently being organised by the Wageningen Soil Network can be found at www.wageningensoilnetwork.nl.