Vroege Vogels in Wageningen: where nature and science meet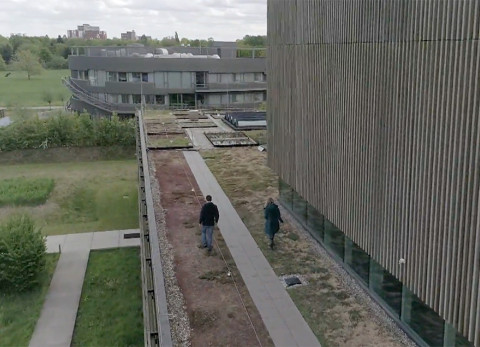 © Vroege Vogels / BNNVARA
Vroege Vogels in Wageningen: where nature and science meet
According to the Dutch television programme Vroege Vogels, Wageningen is 'thé place in the Netherlands where nature and science meet".  That's partly in reference to all the projects and experiments taking place in and around the city itself, with NIOO in one of the starring roles.
Vroege Vogels compiled its special 'Wageningen edition' at a time when there is little travel due to the coronavirus. But plenty of important nature research can still be carried out close to home. One example is linked to the Dutch nitrogen emissions crisis that made the headlines earlier this year.
NIOO-researcher Ciska Veen is trying to find out what the effects are of extra nitrogen on ecosystems, not by extracting nitrogen from the air but by adding more nitrogen to the soil in two test plots. As the photograph demonstrates, the part of the plot that has been fertilised with nitrogen is visibly greener.
But there's a price to pay in terms of biodiversity, warns Veen in the special Vroege Vogels broadcast. Her experiments are part of the NutNet network, in which local researchers carry out the same experiment in 26 different countries, getting worldwide results without the need for international travel.
Green roofs & animal personalities
Other NIOO-research featured in the programme includes the work on animal personality that Kees van Oers does both at NIOO and as special professor at Wageningen UR. Van Oers demonstrates in front of the camera how great tits respond when a children's toy is suddenly placed on top of their next box.
While the more enterprising great tits have a strong advantage over shy specimens as long as there is plenty of food, they lose their edge when resources are scarce according to Van Oers. Under those circumstances, other types of personality may be more successful.
Finally, the Vroege Vogels crew also visit the green NIOO roof, where they're joined by NIOO-researcher Henk Jan van der Kolk. Van der Kolk explains that different soils and different roof types are being compared at NIOO to get more insight into the development of flora and fauna on green roofs.
That's why NIOO's green roof goes far beyond the standard issue Sedum roofs found in more and more locations. It even features experiments with plant-based electricity. What better proof that even so close to home, NIOO still offers fertile ground for research?
Watch the programme (in Dutch)
Vroege Vogels TV was in Wageningen, with NIOO in a starring role.
Programme series: Vroege Vogels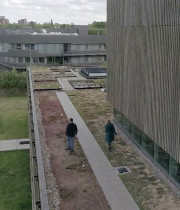 More about the featured research