Spiders and earthworms overtake woodlice in Dutch gardens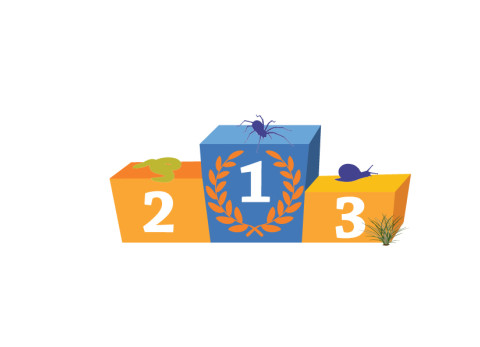 Spiders and earthworms overtake woodlice in Dutch gardens
Results of 2017 Soil Animal Days show shift in crucial soil life
The Soil Animal Days are a way of drawing attention to the crucial but often-overlooked life in the soil: without soil animals, there is no healthy soil. Come October, people all over the Netherlands go out into their gardens, and entire classes go exploring their schoolyard. Previous editions of the Soil Animal Days produced a clear and undisputed winner: the woodlouse. But the wet autumn of 2017 has given the advantage to earthworms and arachnoids.
"The wet but not too cold weather was favourable for most soil animals", says soil ecologist Gerard Korthals (NIOO-KNAW and Centre for Soil Ecology). "That clearly shows in people's observations, although it was probably less fun for the observers themselves. I guess that when we chose 'the weather' as the theme for this year's Soil Animal Days, we were really asking for it!"
2017 winners' podium
They were found in nearly 90% of all gardens, schoolyards, balconies and green roofs that participated: arachnoids such as spiders and harvestmen. In second place: various varieties of earthworms, which together were found in 88% of gardens. Completing the new top three are snails, which were found in 84% of gardens. By contrast, woodlice and insects (ants and beetles) appear not to be great fans of rain and damp: they took quite a tumble this year.
The overall number of soil animals reported per garden this year was 30, the same as during the first edition of the Soil Animal Days. It's a very good score, especially when compared to the 20 reported after the warm and dry late summer the Netherlands had in 2016.
Soil animal-friendly
To compare the soil quality of the 121 participating locations, the researchers drew up a garden type 'report card' based on diversity and the numbers of common soil animals found. The best mark this wet autumn goes to 'green' gardens, which scored 9 out of 10 and which proved to be a suitable habitat for less common soil animals as well.
The average for all participating gardens was 8.6. Semi-green gardens, parks and schoolyards all remained close to the average, while paved gardens plummeted with a very poor 6.6. Green roofs, too, still appear to be in need of some support when it comes to accommodating soil life. Full facts & figures - including a map of the Netherlands and marks for all garden types - can be found on the special results website (in Dutch).
Kitchen towel experiment
A number of participants this year joined our new kitchen towel experiment, which was developed with a view to measuring the effects of weather on soil life. Using only simple materials, they were instructed to set up a safe and humid habitat the size of a tissue.
"The new kitchen towel experiment provides a research location that's the same everywhere, allowing us to compare gardens with a higher degree of accuracy", explain Gerard Korthals and his fellow soil researcher Ron de Goede from Wageningen University & Research. "The experiment has turned out to attract woodlice, eathworms and slugs in particular, while spiders proved to be much less common here."
All creatures great & small
Rainwater by the bucketful? Earthworms and their canals in the soil provide excellent drainage. Autumn leaves clogging up your garden? Trust us, you won't need a leaf blower...just leave it to the soil animals to process the leaves and provide food for next year's plants and soil organisms. 
"The importance of these tiny creatures is often overlooked", says Korthals. "But the recent reports about the disappearance of flying insects in Germany are opening people's eyes." Regardless of whether they have six legs (insects), lots more (woodlice, spiders, centipedes, millipedes) or none at all (earthworms, snails, slugs), most soil animals are indispensable when it comes to keeping our environment - and our society - healthy.
A teacher with one of the participating primary schools adds: "I have done the experiment for six days with a group of toddlers. Armed with bug jars, soil animal charts and magnifying glasses they searched the schoolyard and became enthused by what they found. It taught them how important it is to treat animals with care, and words like 'scary' and 'dirty' gave way to 'pretty' and 'interesting'. Mission accomplished!"
Further evidence of this is provided by the winners of this year's Soil Animal Days photo and film competition.
Not too late to dig
After three editions of the Soil Animal Days, it's clear how important gardens are to soil life and (urban) nature. We now have more than 600 full sets of observations, comprising around 18,000 soil animals. And we're still counting!
Your observations are still welcome, as we'll also be including a follow-up this season. And if you fill in your observations on the website (form in Dutch), you'll immediately get to see the score for your garden. So please 'dig' with us...it's not too late!
The organisers of the Soil Animal Days are the Netherlands Institute of Ecology (NIOO-KNAW) and the Centre for Soil Ecology (CSE). CSE is a joint venture by NIOO and Wageningen UR (Dept. of Soil Quality and other departments). Further support for the initiative is provided by Vrije Universiteit Amsterdam (Department of Earth & Life Sciences), Netherlands Insititute of Biology (NIBI), NL Greenlabel, YouWe, Puzzling Panda, IVN and the national Science Weekend.
_____________________________________________________________________________
With more than 300 staff members and students, NIOO is one of the largest research institutes of the Royal Netherlands Academy of Arts and Sciences (KNAW). The institute specialises in water and land ecology. As of 2011, the institute is located in an innovative and sustainable research building in Wageningen, the Netherlands. NIOO has an impressive research history that stretches back 60 years and spans the entire country, and beyond.
More information:
Images:
Close-up photographs of soil animals may be used on condition that attribution is given to Theodoor Heijerman. All other images: NIOO-KNAW.