Save the chicks to save the population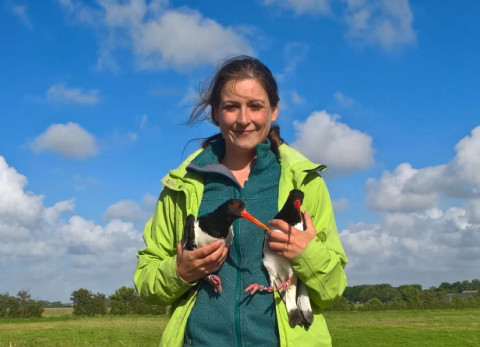 Save the chicks to save the population
Magali Frauendorf defends thesis on decline of oystercatchers in the Netherlands
The reproducive success of oystercatchers in the human-dominated landscape of the Netherlands is too low to keep the population stable. To understand the factors driving the species' decline, and to take effective measures, spatiotemporal variation and its causes must be taken into account. Magali Frauendorf defended her PhD thesis on this topic in Nijmegen today, based on research she did at NIOO.
The overall average reproductive success of oystercatchers in the Netherlands is 0.1 fledglings per pair: well below what is needed for a stable population. Studies on the decline of farmland birds across Europe point to the pressures imposed on natural ecosystems by human activity as a possible cause. Just think of increasing land use intensity for agriculture.
But identifying stress factors is not enough to understand why some populations show such a drastic decline, let alone turn the tide.  It is important, writes Magali Frauendorf in her thesis, to take into account how various extrinsic as well as intrinsic factors affect each other, and what is the role of variation across temporal and spatial scales.
Ideal model species
Understanding the main drivers of population dynamics in migratory species can be a challenge, writes Frauendorf. "Animals can be affected at different stages of the annual cycle that are geographically separated." But the Eurasian oystercatcher may just be the ideal model species, because we already have a broad knowledge of its ecology and behaviour.
This is mainly thanks to long-term monitoring and research on the Wadden Sea island of Schiermonnikoog, an important coastal breeding ground. There's also a considerable network of citizen scientists who collect data on reproduction and survival. Their resightings and field observations help to advance our understanding of spatiotemporal variation in the oystercatchers' reproductive performance.
Breeding density
This approach yields interesting new insights, e.g. about the impact of predation. Oystercatchers face both birds of prey and mammalian predators such as feral cats, which have been very successful on Schiermonnikoog. Chicks don't leave the nest and are largely helpless, which makes them a relatively easy prey.
How easy depends on the interaction between extrinsic (environmental) and intrinsic (density-regulated) factors. That the impact of population density may vary over time and space "is rarely considered", writes Frauendorf. Yet while 'group mobbing' is effective against avian nest predators, a high density of breeding pairs also attracts mammalian predators. So spatial variation in the composition of the predator community  determines if having many neighbours is a good thing.
Grassland benefits
Equally variable and complex is the impact of so-called 'carry-over effects'. For an accurate picture, it is important to look not just at the birds' breeding grounds, but also at their winter environment. "The impact of environmental drivers at overwintering sites may not be directly apparent if they carry-over to the reproductive season", stresses Frauendorf.
Yet her research shows that clutches as well as hatchlings from parents with a good winter body condition survive longer in spring. "We find that it predicted the reproductive success, indicating a carry-over effect." In particular, she found that body condition in winter is positively associated with the proportion of grassland around the wintering ground.
The chicks, not the clutch
These findings should not be diffcult to translate into effective nature management decisions. Preserving or promoting grasslands close to the coast, for instance. Or considering the composition of the predator community and the availability of alternative prey species before deciding where to construct new meadow bird reserves.
A common denominator of these measures, and the most effective approach to compensating the impact of humans on oystercatcher population dynamics according to Frauendorf, is that we should focus on increasing hatchling survival - rather than clutch survival - to increase the overall reproductive output. "Save the chicks to save the population!"
Magali Frauendorf (Germany, 1988) defended her PhD thesis at Radboud University in Nijmegen on Wednesday 14 September. She started her PhD in December 2016 as part of the CHIRP project (Cumulative Human Impact on biRd Populations), at the Netherlands Institute of Ecology in collaboration with Radboud University and Sovon, the Dutch Centre for Field Ornithology. CHIRP aims to quantify the cumulative impact of all potential human pressures on reproductive success and survival of oystercatchers in the Netherlands.