Restoring nature the fast way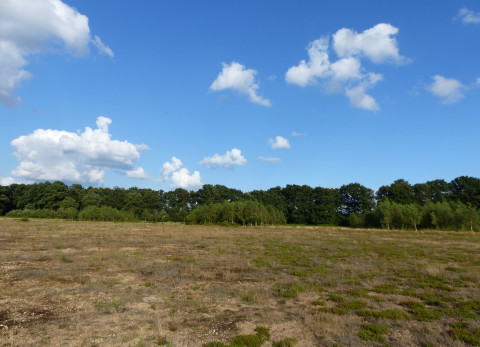 Restoring nature the fast way
NIOO makes soil transplantation recipe available for nature management
Restoring nature is not for the impatient: it takes a lot of time before the right plant species establish themselves. But experiments show there's a way to speed up the process, from decades to just a few years. A new website from the Netherlands Institute of Ecology (NIOO-KNAW) tells you everything you need to know. Meanwhile, one of the researchers working on this pioneering approach defended his PhD thesis this week. 
Success! Heather - or hairy greenweed, or pill sedge, or any of the other target species - has emerged and it's only taken a few years instead of thirty, or fifty. In the Netherlands, new nature areas are constructed regularly. But the circumstances are usually far from perfect, and as long as the seeds of the plant species necessary to develop nature are not present in the soil, it's anyone's guess how long it will take for those efforts to pay off.
So how can we accelerate the process, and turn former arable land that's been heavily fertilised into dry grassland or heathland? What role do organisms in the soil play? A new website, nioo.knaw.nl/en/soiltransplantation, and film bring together the state-of-the-art knowledge on these questions and explain step by step what you can do yourself if you're working in nature management.
What is it?
You take a layer of soil from a species-rich donor area and distribute it thinly over the surface of the former arable field or other type of area you're restoring: that's called 'soil transplantation'. The layer of soil doesn't even have to be a centimeter thick, yet the effects can be breathtaking. "It's a relatively simple measure", says NIOO soil transplantation expert Martijn Bezemer, "and it's relatively easy to apply."
A pioneering project in Reijerscamp, an area farmed for nearly 60 years and now owned by the Netherlands Society for Nature Conservation, has produced some very promising results. Bezemer: "It has clearly demonstrated that we can steer nature using soil transplantation, and that soil transplantation can help us restore the type of landscape we want. Heathland, dry grassland, even meadows."
In his PhD thesis on soil transplantation, which he defended in Wageningen on Wednesday, NIOO researcher Jasper Wubs concludes that the composition of the soil community determines what plant life will emerge. "If you want to restore nature, you can use the soil community to influence the plant species composition. We've also seen that soil transplantation has a lasting impact on the soil community." 
Recipe
So how can these insights be translated into a 'recipe' that everyone can use? A "light" version of soil transplantation, if you like, which doesn't involve using entire sods? Essentially, there are just four steps:
Step one: preparing the terrain for transplantation, which may simply mean leaving it to the elements.
Steps two & three: collecting donor soil and distributing it over the surface of the new area.
Step four: following up with nature management techniques such as mowing and grazing, or possibly further soil transplantations.
Nature managers and researchers have by now built up a substantial amount of knowledge and experience, and they're eager to share it with others . "It's important that we work together", says Martijn Bezemer. "The Reijerscamp project would not have been possible without that. In this case, it started with a question from site manager Machiel Bosch about the best way to assess the experiment."
Jasper Wubs adds: "It's extremely valuable to have that practical point of view. And the desire to keep up with the latest scientific insights has also been a strong motivation." 
Put it on the map!
A film, a step-by-step guide, background information, but also a map that lists the locations of some twenty current soil transplantation experiments in the Netherlands: you'll find all of these on the new NIOO soil transplantation website nioo.knaw.nl/en/soiltransplantation.
Interested? If you have any new projects to report, Bezemer will be happy to add them to the map. He hopes it will result in more collaborations between researchers and nature managers who are working on, or considering, soil transplantation experiments.
The site has been developed by NIOO together with the Society for Nature Conservation. Additional funding was provided by the NWO-programme 'Biodiversity Works', which also funds the research. A follow-up will be carried out by Martijn Bezemer using a Vici-grant he's been awarded under the Innovational Research Incentives Scheme.
Desertified
Finally, what future for soil transplantation do the researchers see? Bezemer: "I expect an increase in the number of projects not just in nature management but also in agriculture. I also expect we will experiment with artificial soil cultures, i.e. letting specific plant communities grow on experimental soils. We can then use these soils for transplantation, rather than donor soil from nature areas. This should make the procedure even more broadly applicable." 
Meanwhile, Jasper Wubs is thinking along even more ambitious lines: "Personally, I hope that in due time this will help to restore desertified areas. Of course, that will first require further research..."
_____________________________________________________________________________________
With more than 300 staff members and students, NIOO is one of the largest research institutes of the Royal Netherlands Academy of Arts and Sciences (KNAW). The institute specialises in water and land ecology. As of 2011, the institute is located in an innovative and sustainable research building in Wageningen, the Netherlands. NIOO has an impressive research history that stretches back 60 years and spans the entire country, and beyond.
More information:
Jasper Wubs PhD, dept. of Terrestial Ecology NIOO-KNAW, tel. +31-6-41723213 / +31-317-473580, j.wubs@nioo.knaw.nl

Science information officer Froukje Rienks, NIOO-KNAW, tel +31-6-10487481 / +31-317-473590, f.rienks@nioo.knaw.nl
Website: www.nioo.knaw.nl/en/soiltransplantation (English) and and www.nioo.knaw.nl/bodemtransplantatie (Dutch)
Photographs: see Downloads for some downloadable photographs of soil transplantation experiments
Thesis Defence: Jasper Wubs, "The steering role of plant-soil interactions in natural community dynamics and nature restoration" Wageningen University 31-05-2017, promotors prof.dr.ir. Wim van der Putten and prof.dr. Martijn Bezemer (both NIOO-KNAW).