Predicting soil biodiversity to make food production more sustainable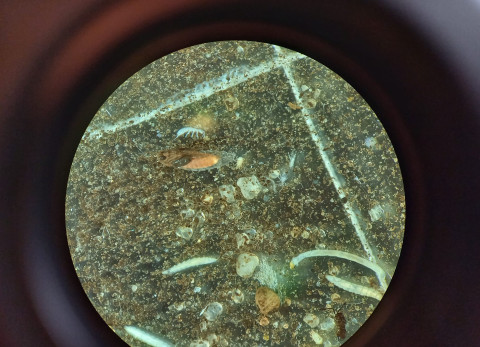 Predicting soil biodiversity to make food production more sustainable
Major grant for new research programme
Fields and meadows provide a range of key services, as long as the soil is healthy. But these services are under pressure due to the demands of food production. A new research programme led by NIOO's Wim van der Putten wants to change that. The programme received a major grant from the Dutch Research Council (NWO) this week.
Farmlands don't just produce food. They're also important for providing clean air and drinking water, they help to buffer climate change by taking up greenhouse gases, and they suppress soil-borne plant diseases and pests. But these important services all depend on healthy soil life.
"Intensive farming is putting more and more pressure on the soil", says programme leader Wim van der Putten from the Netherlands Institute of Ecology (NIOO-KNAW). "A broad coalition of researchers, companies, NGOs and government bodies will now study how farmlands can be returned to multifunctionality, and which crops, species, soil organisms and substrates have a beneficial impact."
Artificial Intelligence
The researchers will work with 17 companies, NGOs and government bodies to map out the soil life of Dutch farmlands. It's a huge undertaking, as even just a handful of soil contains up to five thousand different species of soil life, and ten billion individual organisms.
"And that's only the beginning of the work", says Van der Putten. "We will apply artificial intelligence to the biodiversity we find in order to recognise patterns. These patterns can teach us how to restore the multifunctionality of the soil life." Companies can use this knowledge to come up with more sustainable crops, micro-organisms and substrates. And NGOs and government bodies can use it for consulting and policy making.
Expanding tradition
The Netherlands has a long tradition when it comes to soil research. Until recently, that research focused mostly on measuring the chemical and physical properties of the soil. The new research programme, SoilProS (Soil biodiversity analysis for sustainable production systems) expands the tradition by adding another important element to the mix: biological soil analysis.
It's not new as such, but collecting data in a coherent way and interpreting the data has been a major bottleneck. SoilProS will use machine learning and network analysis to clear that bottleneck. Predictions will be validated in practice, in close cooperation with farmers and companies. Van der Putten: "We will provide land owners and land users with new knowledge, and together we will look for ways to apply that knowledge."
Societal challenges
The Perspectief programme of the Dutch Research Council Domain Applied and Engineering Sciences (AES) comprises seven consortia of researchers, companies, societal organisations and government bodies. They will work on technological innovations aimed at addressing a range of societal challenges. The programme is financed by the Ministry of Economic Affairs and Climate Policy through the Dutch Research Council.
The SoilProS-programme will be led by NIOO-KNAW. Other participating knowledge institutions are University of Amsterdam, Utrecht University, University of Twente, Wageningen University & Research and HAS University of Applied Sciences. Companies and other societal partners that participate in the programme are: Agrifirm, Barenbrug, Kekkilä-BVB, Friesland-Campina, Syngenta, Vitens, Hilbrandlab (HLB), Plant Health Cure (PHC), Stichting Aardbei Onderzoek, ESTI-impact (ESTI), Eijkelkamp, Wij.land, Netherlands Agricultural and Horticultural Association, Province of Gelderland, Province of North Brabant, Rijkswaterstaat and the Ministry of Agriculture, Nature and Food Quality.
__________________________________________________________________________________________
With more than 200 staff members and students, the Netherlands Institute of Ecology (NIOO-KNAW) is one of the largest research institutes of the Royal Netherlands Academy of Arts and Sciences (KNAW). The institute specialises in water and land ecology: how does nature work? Biodiversity, climate change and sustainable land & water use are the main themes to which NIOO's researchers apply their expertise. As of 2011, the institute is located in an innovative and sustainable research building in Wageningen, the Netherlands. NIOO has an impressive research history that stretches back 65 years and spans the entire country, and beyond.
More information:
Photographs: please attribute to NIOO-KNAW