Liesbeth Bakker appointed as Europe's first professor of rewilding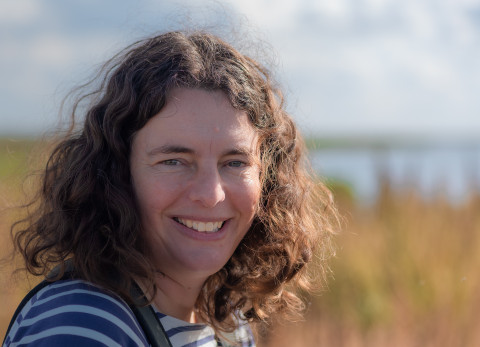 © Perro de Jong / NIOO-KNAW
Liesbeth Bakker appointed as Europe's first professor of rewilding
NIOO-researcher Liesbeth Bakker has been appointed Special Professor of Rewilding Ecology at Wageningen UR. It's a pioneering position: the first of its kind in all of Europe, and quite possibly the world.
Rewilding is a conservation method that returns habitats to their natural state, enabling natural processes to shape land and sea and repair damaged ecosystems. Liesbeth Bakker, who has a background in wetland and wildlife ecology, is already hard at work furthering the science and study of rewilding as Special Professor.
"We are now seeing the practice of rewilding gain momentum and start to deliver real impact across Europe, but the science of rewilding is lagging behind," she explains. "I want to help it catch up. Advancing the science of rewilding can help the practice of rewilding, and vice versa, so this is all about improving rewilding outcomes."
Rewilding ecology specifically looks at the outcomes of rewilding as a new ecosystem restoration technique, and at the underlying ecological mechanisms that explain those rewilding outcomes. It's driven by the need for urgent action to bend the curve as wildlife abundance and biodiversity decline alarmingly worldwide.
(Text continues below the photographs)
Pioneering work
The special chair at Wageningen UR has been created within the university's Wildlife Ecology and Conservation Group, with support from NIOO-KNAW and Rewilding Europe. Alongside her new role, Bakker will continue to work at NIOO's department of Aquatic Ecology, where she is a senior scientist.
At NIOO, Bakker has done important work on issues including the impact of large herbivores and predators - megafauna - on ecosystem functioning. The decline or extinction of many of these large animals has been linked to human activity. Rewilding reduces the role of humans, e.g. by removing dams and dykes and scaling down active management of wildlife populations.
Bakker has also pioneered the scientific work done on the Marker Wadden, a man-made archipelago in lake Markermeer in the Netherlands, where an entire ecosystem has been built from scratch. Bakker leads a team from Radboud University, the University of Groningen and the Netherlands Institute of Ecology (NIOO-KNAW) that looks at the way foodwebs develop around the islands.
Robust science
With her enthusiasm for rewilding ecology immediately clear, Bakker's new position should prove more of a vocation than a job. "With its broad perspective and focus on enhancing nature-based solutions, the practice of rewilding has already achieved so much in a short space of time," she enthuses.
Rewilding could contribute to improving biodiversity and wildlife abundance, and also to nature-based solutions for mitigating the consequences of climate change, such as reducing flooding risks or the incidence of wildfires.
But in some cases, she says, people are still unsure what rewilding is, or they're sceptical about it or don't know what to expect if they engage in it. "My job is to come to them with answers grounded in robust science and applied research. It is important to back up rewilding efforts and results with facts and figures."
Cross-pollination
In her research she will focus on land-water connections and the engineering impacts of wildlife on ecosystems. Examples of the foreseen work include studies on how rewetting or connecting land and water by creating floodplains results in habitat and food for fish and wetland birds, and how large herbivores contribute to biodiversity by dung deposition.
As a coordinator, Prof. Bakker will work to connect members of the scientific community across Europe focused on rewilding ecology. NIOO-director Geert de Snoo is looking forward to some academic cross-pollination:
"Nature restoration is one of the strategic themes of our institute, so rewilding ecology is a very important topic for us," he explains. "The establishment of the new chair will enhance research and education in this emerging field, delivering grounded scientific insights into the interactions between species and their changing environment which are critical to the future of conservation and safeguarding of biodiversity."
Natural fit
Most of her time as a teacher will be spent supervising master's students engaged on rewilding-related internships. One role Bakker believes she won't have to perform is that of student motivator. 
"I don't think you have to do much to interest the younger generation in rewilding," she laughs. "More and more young people want to get involved and contribute to making the Earth a better place these days. With its hopeful, proactive message, rewilding is an appealing field."  A natural fit, that is!