Eiko Kuramae appointed professor of Microbial Community Ecology & Environmental Genomics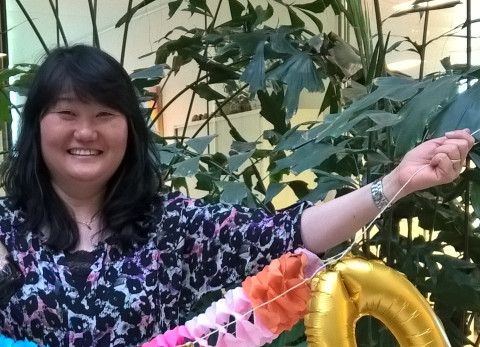 Eiko Kuramae appointed professor of Microbial Community Ecology & Environmental Genomics
NIOO-researcher Eiko Kuramae has been named professor by special appointment of Microbial Community Ecology & Environmental Genomics at Utrecht University. Kuramae is a leading expert in the ecology of terrestrial microbial communities. Her work has been instrumental in bringing the environmental genomics toolbox into the field of microbial ecology. 
Kuramae brings together expertise in the fields of agronomy, microbial ecology, environmental genomics and bioinformatics. This combination allows for a much-needed holistic approach to understanding (agro-)ecosystem functioning in our changing world.
Such a holistic view explicitly takes into account the roles of microbes and above- and belowground interactions in ecosystem services delivered by terrestrial ecosystems, including agriculture and drinking water production.
Research areas
Through her combination of expertise, Kuramae connects with a large number of research areas at Utrecht University. Her work on solutions for sustainable food production systems and a better understanding of the practical aspects of agro-ecosystems fits within the research areas Future Food and Pathways to Sustainability.
Her focus on the functioning of microbial communities in relation to the provision of ecosystem services fits within the research hub Water, Climate and Future Deltas and the Utrecht Academy of Ecosystem Services.
Kuramae's fundamental work leads to greater insight into the composition and functioning of terrestrial microbial communities and thus fits in well with the work of the Bioinformatics group within the Department of Biology and the Utrecht Bioinformatics Center.
Background
Eiko Kuramae studied in São Paulo and Brussels and obtained her PhD in São Paulo. Shortly after receiving her PhD, she won the prestigious FAPESP Young Scientist award, which enabled her to set up her own research group and laboratory in the field of Molecular Plant Pathology and Genomics in São Paulo.
She has worked in the Netherlands since 2002, first at the Westerdijk Fungal Biodiversity Institute, then at Amsterdam's VU University Amsterdam and currently at the Netherlands Institute for Ecology (NIOO-KNAW). At NIOO, she leads a research group in the field of molecular microbial ecology and environmental genomics.
Kuramae will continue her work as a senior researcher at NIOO alongside her position as professor by special appointment in Utrecht.