Nature research and society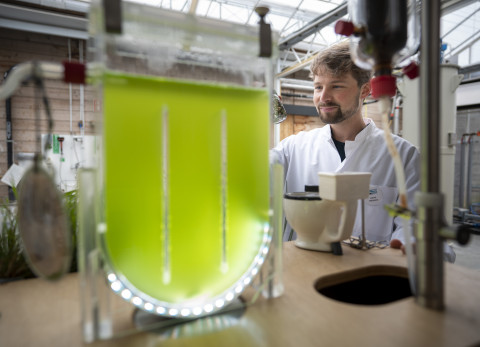 Nature research and society
Ecological knowledge is essential for a sustainable society, and so for the future of our planet as we know it: ecology is truly the science of the 21st century. This makes disseminating our science to society an invaluable part of our mission.
NIOO has a vigorous and long-standing commitment to societal impact. Not only is NIOO housed in a sustainable building designed to translate our ecological principles in terms of architecture and construction, we also have a number of units that are tailor-made for disseminating our ecological knowledge to specific target groups, we have a very active outreach policy, and we actively involve citizens in our research through large-scale citizen-science projects.
Direct technology transfer
Public-private partnerships are blossoming. In the nationwide BE-Basic programme, various STW/TTW projects including the Perspective programme 'Back to the Roots', the Bill & Melinda Gates Foundation project 'PROMISE', and NWO projects financed from the Dutch government's 'Top sectors' initiative (e.g. NWO-Groen), NIOO collaborates with a range of industrial and governmental stakeholders. Our bio-based projects are important within the government's focus on a sustainable bio-based industry, circular economy and sustainable food production. This also enables us to bolster our collaborations with strong developing countries including Brazil,Colombia, South Korea, China, Ethiopia, and India.
NIOO initiatives such as AKWA, CSE, CAPS, and NIOO's multi-partner projects on nutrient cycle/wastewater treatment with algae, roof vegetation, urban biodiversity development, and nature restoration, are all geared towards solving environmental issues through direct knowledge transfer to participating stakeholders. Examples are the 'Green Deal Green Roofs' with GOs; Community of Practice (STOWA); direct interactions between AKWA and METS and water boards; joint ecosystem restoration practices with NGO Natuurmonumenten, etc. In addition, dissemination is increasingly used to set research agendas and propose new research directions.
In 2016 and 2017, NIOO filed three new patent applications based on NIOO inventions. One patent has already been licensed to a company for commercial exploitation. For two others recently filed, an active commercialisation strategy is currently being developed in consultation with companies and/or academic research partners. A previous NIOO patent has served as the basis for the creation of Microlife Solutions BV, a spin-off company under the holding of BioDetectionSystems BV.
Impact on policy
NIOO scientists also aim to positively influence the policies of societal, private company, NGO and governmental stakeholders. NIOO's director currently chairs a major national initiative on the recovery of biodiversity, with stakeholders from science, nature organisations, the agrochain, companies, banks and retail (Deltaplan Biodiversiteitsherstel). She also strategically advises Dutch governmental agencies and Dutch and European politicians on environmental issues, circular and bio-based economy, e.g. through KNAW 'Science for Parliament' meetings and lectures, and at EU level through the Environmental Steering Group of EASAC. NIOO presently leads an EASAC report on Soils at Risk.
Another example is our 'Light on Nature' project; the scientific output of this project is being used directly to mitigate effects of public lighting as the results are implemented in the national guidelines for the deployment of illumination in and near natural areas in the Netherlands, and in the general guidelines on illumination of larger roads.
Popularising science
NIOO values the dissemination of its knowledge to a wider audience by popularising science. This involves open days, press releases, public lectures, film and gaming projects, active participation in public debates and social media, website news, eye-catching stands at festivals (including the popular Summerlabb partnership), school projects, well-visited tours of the NIOO building and citizen science projects. For examples of the latter, we refer to the Dutch Centre for Avian Migration & Demography, which serves all Dutch volunteer and professional bird ringers, and the annual Soil Animal Days, which are held with the help of hundreds of citizens throughout the country.
NIOO provides training (presentations skills, building and using networks, use of social media, websites, films and so on) to further increase the societal impact of its research, and to assist researchers when it comes to engaging in various kinds of outreach activities. In addition, the institute reaches out via projects on research and high impact papers in order to address a wide audience.