Thin film of energy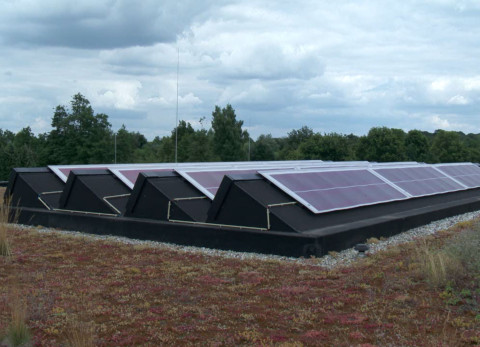 PV foil is 'building-integrated': it collects solar energy, and makes the roof waterproof at the same time.
Why?
PV foil: a thin film on your roof that captures sunlight. It's a prime example of a 'building-integrated' sustainable energy system. Conventional solar thermal collectors are 'building-added': first you have to waterproof your roof, then you place a solar collector on it. PV foil does both: it makes and keeps your roof waterproof, and it generates energy at the same time.
How?
NIOO's roofs are used for comparative testing of a number of different types of PV foil. This provides suppliers with valuable information about the practical performance of their product. Think, for instance, of the impact of different weather conditions, the average yield over a year or the way natural deterioration affects the foil's lifespan and performance.
We help to disseminate this valuable information, and of course this 'trial garden' also supplies NIOO with sustainable energy.