New children's book about soil animals for Dutch schools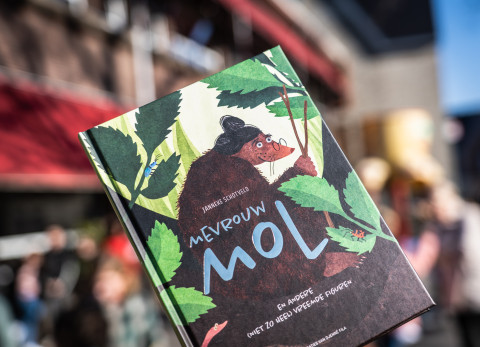 New children's book about soil animals for Dutch schools
All primary schools in the Netherlands receive a free copy this week of Mevrouw Mol en andere (niet zo heel) vreemde figuren: a new children's book by one of the country's most popular authors. The aim of the book is to raise awareness of the important role of soil animals. Through the 'Onder het Maaiveld' programme, NIOO has a major stake in the book.
In the book, three children are jolted out of their boring everyday routine when they meet their mysterious new neighbour, Mrs. Mole. Three Dutch primary schools contributed ideas to help author Janneke Schotveld, who is best known in the Netherlands for the popular Superjuffie series. As a reward, these schools were presented with the first copies of the book.
Schotveld visited the schools in a Volkswagen Beetle (!), read from the book and then took the children on a 'soil animal safari'. In addition to the book itself, schools get access to a full teaching package courtesy of the Onder het Maaiveld programme, which is an initiative of IUICN NL, NIOO, De Vlinderstichting and the Centre for Soil Ecology (NIOO/WUR) with funding from the Nationale Postcodeloterij.
(Text continues below the pictures)
The annual Soil Animal Days, which were started by NIOO's Froukje Rienks in 2015, also fall under Onder het Maaiveld. Input from the Soil Animal Days was used for the new children's book, as was ecological expertise to make sure everything in the book is 'biologically correct'.
Mevrouw Mol en andere (niet zo heel) vreemde figuren is to be the first in a series of soil animal-themed children's books commissioned by Onder het Maaiveld. The second installment, which will again come with a full teaching package, is to be launched this autumn, around the same time as the 8th edition of the Soil Animal Days.