Is agroforestry the answer for rainforest restoration?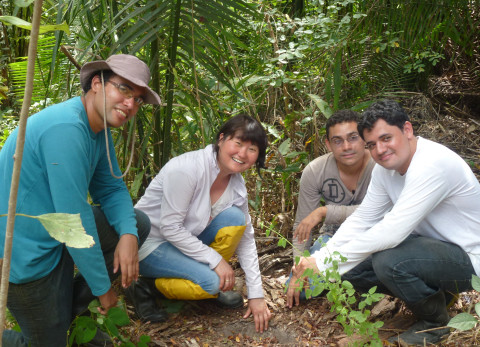 © Eiko Kuramae / NIOO-KNAW
Is agroforestry the answer for rainforest restoration?
We have to look at the impact on the soil
The conversion of Amazon rainforest for agriculture has led to massive deforestation and soil degradation. Agroforestry, which combines crops with trees and animals, has been suggested as a sustainable alternative. But in the scientific journal Global Change Biology, an international team of researchers led by Eiko Kuramae and Márcio Leite (NIOO-KNAW) says its impact on the soil may be underestimated.
Many farmers in the Amazon use slash-and-burn practices. They set fires to make nutrients that are stored in plant biomass available for their crops. Afterwards, production rapidly declines and the farmers have to move to another plot. This causes huge damage to the landscape, and it adds to poverty in the long run because the land's productivity is reduced.
Agroforestry systems (AFS) are based on combining crops with trees and animals, all in the same plot. Agroforestry practices can improve the topsoil, maintain soil organic matter content, and promote nutrient cycling. On paper, they should mimic plant succession in spontaneous forests while still leaving enough room for crop production: the best of both worlds.
Fungi vs bacteria
But the possible beneficial effects for restoring the Amazon rainforest depend almost entirely on ecosystem services that are delivered by the microbes in the soil. And the impact of agroforestry on the composition of the soil's microbial community - the soil microbiome - has not been fully considered, write Kuramae, Leite and their colleagues.
They found that AFS practices did not mimic the rainforest's natural plant–soil interactions. Rather, these practices reshaped the ecosystem to a completely different relationship between aboveground biomass on the one hand and the soil and its microbiome on the other. Notably, there was an increase in bacteria, which is at odds with the Amazon's natural fungi-rich soils.
Bacteria respond faster to changes in soil factors, and are less dependent on aboveground plants. In forest which has regrown after slash-and-burn cultivation, by comparison, fungal communities slowly build a stronger co-dependence with the plants. Neither fully recovers the complex dynamics between plants and soil microbes found in mature rainforest: forest regrowth takes too long, but in agroforestry systems it changes completely.
Changes required
The problem, according to the researchers, is that agroforestry practices are still designed to optimise crop production. They maximise positive interactions between plants and soil subsystems, and minimise negative interactions. This reduces the intensity of the aboveground–belowground interactions, and consequently the microbiome's resilience.
To provide guidelines so that agroforestry systems can better mimic mature forest, the researchers carried out model simulations. The simulations revealed that to have the same microbiome found in mature rainforest, profound changes would be required to the agroforestry systems' aboveground biomass and soil factors.
The researchers found that in some types of agroforestry systems, the amount of dead logs and shrubs available would have to more than triple. And the amount of biomass from smaller plants (i.e. plants with a diameter of less than 10cm at breast height) would have to double. That may not be attainable for commonly used agroforestry practices.
Sustainable and eco-efficient
"Agroforestry systems remain as an important alternative to slash-and-burn agriculture", stress the researchers. "Previous studies confirmed that they are capable of recovering carbon faster than in spontaneous secondary forests." But for the Amazon rainforest to recover, "it's necessary to make this practice more sustainable and eco-efficient." 
To achieve this, new agricultural practices will first have to be developed, fostering stronger interactions between plants and soil microbes - the fungal community in particular.