Lilia Serrano Grijalva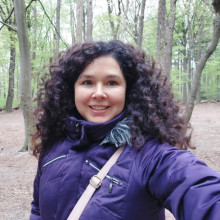 Dr. Lilia Serrano Grijalva
About
Biography
I'm Lilia. I grew up in Sonora, Mexico. I lived between the beach and the desert. I worked at the Mexican agency for the protection of the natural environment as a nature resource inspector. After this, during my MSc and PhD thesis, I focused on the consequences of human impacts on the structure of trophic networks and the biogeochemistry of wetlands in Mexico and Spain using stable isotopes. I also worked as research assistant at the Hawkesbury Institute for the Environment, Australia. After 4 years of maternity break, I am very happy to back to science with a MSCA fellowship at NIOO, where I am working under the supervision of Prof. Wim van der Putten, Dr. Ciska Veen and Dr. Raul Ochoa-Hueso.
Research groups
CV
Employment
2020–Present

NIOO- Postdoc. Netherlands

2013–2016

Research Assistant. Hawkesbury Institute for the Environment. Western Sydney University. Australia

2001–2004

Environmental Compliance Inspector. Mexican agency for the protection of the natural environment. México
Education
2009–2013

PhD in Ecology. Autonomous University of Madrid, Spain

2006–2008

MSc in Ecology. Instituto Tecnológico de Sonora (ITSON). México

1996–2000

BSc in Ecology. Centro de Estudios Superiores del Estado de Sonora (CESUES), México. Extraordinary Degree Award
Grants
2020

MSCA-Individual fellowship

2009

JAE-PREDOC FELLOWSHIP

2006

MSc in Ecology
Publications
Peer-reviewed publications
Aims

While it is well-established that nitrogen (N) availability regulates elevated [CO2] (eCO2) effects on plant growth and soil carbon (C) storage in N-limited environments, there are fewer studies investigating the role of phosphorous (P) supply on such responses in P-limited environments. In this study, we explored whether P fertilization influences the response of plant growth, soil enzyme activity and C fluxes to eCO2, and determined how different levels of water availability regulate these processes.
Methods

We used soil collected from a temperate, P-limited Eucalyptus woodland containing the native soil seed bank to grow a potted replica of local understory communities. We exposed the emerging communities to eCO2 under two contrasting water levels and two levels of P fertilization. We assessed plant biomass allocation, the rhizosphere activity of extracellular enzymes related to C, N and P cycles, and pot-level CO2 fluxes.
Results

The positive effects of eCO2 on plant production and ecosystem C dynamics were strongly constrained by low levels of P availability. Enhanced water supply increased rhizosphere enzyme activity with minor impacts on plant biomass responses to eCO2. Our data also suggest that plant and microbial mechanisms that increase nutrient release from SOM may not be able to overcome this P limitation.
Conclusions

While current Earth System Models predict positive feedback responses of terrestrial ecosystems on C storage under eCO2, here we emphasize the importance of accounting for the widespread phenomenon of P-limitation in such responses.

https://doi.org/10.1007/s11104-022-05763-0

The size, frequency, and timing of precipitation events are predicted to become more variable worldwide. Despite these predictions, the importance of changes in precipitation in driving multiple above- and belowground ecosystem attributes simultaneously remains largely underexplored. Here, we carried out 3 yr of rainfall manipulations at the DRI-Grass facility, located in a mesic grassland in eastern Australia. Treatments were implemented through automated water reapplication and included +50% and −50% amount, reduced frequency of events, and an extreme summer drought. We evaluated the spatiotemporal responses of multiple ecosystem attributes including microbial biomass, community composition and activity, soil nutrient content and availability, and plant nutritional status to altered rainfall regimes. We found that changing precipitation patterns resulted in multiple direct and indirect changes in microbial communities and soil and plant nutrient content. Main results included greater availability of soil macronutrients and reduced availability of micronutrients under drought, and taxon-specific changes in the composition of soil microbial communities in response to altered rainfall. Moreover, using structural equation modeling, we showed that, in summer 2015, plant macronutrient contents, a widely used ecological indicator of pasture quality, were simultaneously explained by greater soil nutrient availability and the structure of soil microbial communities, and significantly reduced by lower rainfall. Plant micronutrients were also reduced by lower rainfall and explained by changes in microbial attributes. Despite treatment effects on many of the soil, microbial, and plant variables analyzed across the 3 yr of study, many of these ecosystem attributes varied greatly across sampling events. This resulted in many significant interactions between the rainfall treatments and experimental duration, suggesting complex system-level responses to changing rainfall in our grassland, and a high natural buffering capacity of the ecosystem to varying rainfall conditions. Some interactions manifested as changes in the coefficient of variation of ecosystem attributes, particularly in response to changes in the timing of precipitation events and the extreme summer drought. Finally, we posit that a detailed understanding of plant–soil–microbial interactions, and the role of climate in modifying these linkages, will be key for adapting the sustainability of grasslands to a future that will be shaped by climate change.

https://doi.org/10.1002/ecm.1424
Projects & collaborations
Projects
At the AKWA group we are involved in numerous GLEON projects
Additional Projects
SOFT- Steering Organic Farming Transition. Netherlands
2020–2022
How coupling of soil networks differs between conventional and organic farming.