Krista van den Heuvel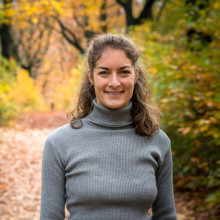 Krista van den Heuvel MSc
About
Biography
I received my Bachelor's and Master's degree in biology at Wageningen University. My Bachelors were completed with a thesis on neighbourhood and personality effects on singing activity in the great tit. This study triggered my interest for animal behaviour and during my Masters, I chose to conduct my thesis at the Entomology lab, to study the morphology of dopaminergic neurons in relation to learning dynamics in Nasonia parasitic wasps. After that, I performed an internship at the Max Planck Institute for Chemical Ecology in Jena, Germany. Here, I studied the morphology and function of monoaminergic neurons in the antennal lobe of the fruit fly, the insect brain structure for olfactory processing. After my graduation I performed a traineeship at The Danish Research Institute of Translational Neuroscience in Aarhus, Denmark, studying neural aspects of courtship behaviour and reward in the fruit fly. Since March 2018, I am a PhD at the NIOO-KNAW in the Animal Ecology Department and at the University of Wageningen in the Behavioral Ecology Department.
Research groups
Projects & collaborations
Projects
This unique inter-disciplinary collaboration between three of the larger institutes of the KNAW aims to elucidate the function of epigenetic regulation in the...
Featured in
How important is cognitive flexibility for the ability of great tits to adapt to climate change? Krista van den Heuvel did her PhD research at NIOO on this question.

On Tuesday 27 June 2023, Krista van den Heuvel will defend her PhD thesis, titled "The flexible brain: Causes of individual variation in cognitive flexibility".