Azkia Nurfikari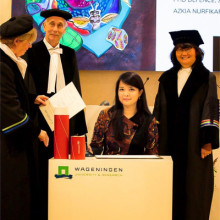 About
Biography
I am one of 5 PhDs working in an NWO-funded project "Closing the loop: exploiting sustainable insect production to improve soil and crop health". We are investigating the residual streams of three insect species produced for food or feed with respect to (a) soil microbial community succession, (b) biocontrol of soil-borne pathogens, (c) induction of resistance in crops to aboveground insect pests, (d) enhancement of aboveground biological control of insect pests, (e) improvement in flower traits. The outcomes of this interdisciplinary approach will provide insight into the novel applications of insect residual streams in the circular economy.
https://www.resource-online.nl/index.php/2022/11/28/insectenhuid-verbet…
Research groups
CV
Education
2016–2018

Master in Cellular and Molecular Biotechnology, Wageningen University and Research (WUR), The Netherlands

2010–2014

Bachelor in Microbiology, Bandung Institute of Technology (ITB), Indonesia
Publications
Key publications
Beneficial soil microorganisms can contribute to biocontrol of plant pests and diseases, induce systemic resistance (ISR) against attackers, and enhance crop yield. Using organic soil amendments has been suggested to stimulate the abundance and/or activity of beneficial indigenous microbes in the soil. Residual streams from insect farming (frass and exuviae) contain chitin and other compounds that may stimulate beneficial soil microbes that have ISR and biocontrol activity. Additionally, changes in plant phenotype that are induced by beneficial microorganisms may directly influence plant–pollinator interactions, thus affecting plant reproduction. We explore the potential of insect residual streams derived from the production of insects as food and feed to promote plant growth and health, as well as their potential benefits for sustainable agriculture.

Chitin, a biopolymer present in fungi and arthropods, is a compound of interest for various applications, such as in the agricultural and medical fields. With the recently growing interest in the development of insect farming, the availability of chitin-containing residual streams, particularly the molting skins (exuviae), is expected to increase in the near future. For application purposes, accurate quantification of chitin in these insect sources is essential. Previous studies on chitin extraction and quantification often overlooked the purity of the extracted chitin, making the outcomes inconsistent and prone to overestimation. The present study aims to determine chitin content in the exuviae of three insect species mass-reared worldwide: black soldier fly (BSF), mealworm, and house cricket. Chitin was chemically extracted using acid and alkali treatments to remove minerals and proteins. The purity of extracted chitin was evaluated by hydrolyzing the chitin into glucosamine, followed by quantitative determination of the latter using two liquid chromatography methods: electrochemical detection (ECD) and tandem mass spectrometry (MS/MS). Both methods proved accurate and precise, without the need for labor-intensive derivatization steps. Pearson's correlation and Bland-Altman plots showed that the glucosamine determination results obtained by the two methods were comparable, and there is no consistent bias of one approach vs. the other. The chitin content in extracted residues ranged between 7.9 and 18.5%, with the highest amount found in BSF puparium. In summary, the study demonstrated that (1) the residual streams of the insect farming industry have a great potential for utilization as an alternative chitin source, and (2) both LC-ECD and LC-MS/MS are reliable for the quantitative determination of glucosamine in insect chitin.

Microbiomes play a pivotal role in plant growth and health, but the genetic factors involved in microbiome assembly remain largely elusive. Here, we map the molecular features of the rhizosphere microbiome as quantitative traits of a diverse hybrid population of wild and domesticated tomato. Gene content analysis of prioritized tomato quantitative trait loci suggests a genetic basis for differential recruitment of various rhizobacterial lineages, including a Streptomyces-associated 6.31 Mbp region harboring tomato domestication sweeps and encoding, among others, the iron regulator FIT and the water channel aquaporin SlTIP2.3. Within metagenome-assembled genomes of root-associated Streptomyces and Cellvibrio, we identify bacterial genes involved in metabolism of plant polysaccharides, iron, sulfur, trehalose, and vitamins, whose genetic variation associates with specific tomato QTLs. By integrating 'microbiomics' and quantitative plant genetics, we pinpoint putative plant and reciprocal rhizobacterial traits underlying microbiome assembly, thereby providing a first step towards plant-microbiome breeding programs.
Projects & collaborations
Projects
This is a sub-project of a WUR-NIOO project entitled "Closing the loop: exploiting sustainable insect production to improve soil, crop and animal health", coordinated by Prof. Marcel Dicke. Insects can transform waste streams into high-value proteins for food and feed. Consequently, insects provide valuable contributions to a circular economy. The project aims to investigate the valorisation of the rest-stream of insect production, i.e. moulting skins and faeces ('frass') to enhance soil health and crop health (https://doi.org/10.1016/j.tplants.2022.01.007).
In the NIOO project, we study the decomposition rate of frass and moulting skins of three insects species (black soldier fly, mealworm, cricket) in arable soil as well as the composition of the fungal and bacterial decomposers. In addition, we study if the insect materials, which are rich in chitin, can be used to control soil-borne fungal plant diseases.
Featured in
Azkia Nurfikari will defend her PhD thesis "Prospects of residual streams from insect cultivation for sustainable crop management".